Products
A Design Icon for the Modern Age
For generations of Irish families the range has been at the very heart of the Home. More than a mere appliance; the Stanley or Rayburn provided the family with warm meals, lashings of piping-hot water and the ever-present background glow that transformed the kitchen into a cosy haven against the coldest and wettest of winter mornings.
Times change but our basic needs remain the same. Those cherished comforts are as relevant in today's hectic family life as they were in more simple times and the classic, graceful designs are as desirable today as they ever were.
Not just a stylish addition to your kitchen but as any chef will tell you; your range can provide an unbeatable way to cook your food. The gentle, indirect heat from the oven seals-in the natural juices for succulent roasts and pastries & cakes are moist and flavoursome. The hotplate provides an incredibly controllable cooking surface that is instantly up to cooking temperature, whether frying, boiling or toasting.
This unique way of preparing your food coupled with design features such as domestic hot water, radiant heat and self-cleaning ovens are concepts that stretch back to the 1930s. Such rich history and the constant, quiet reliability of a quality range cooker can be as comforting today as in your Grandparents day.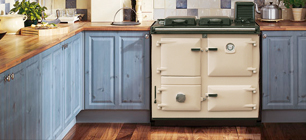 Range Cookers